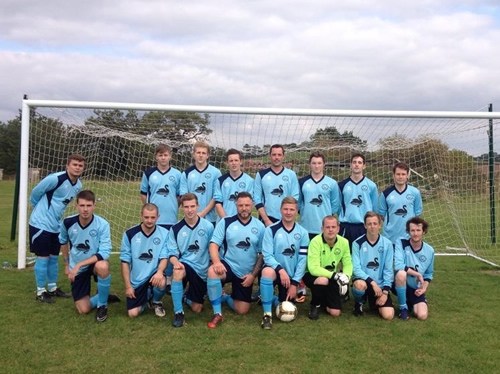 Results on The Pitch
We have had an excellent start to the season.   Our first team are well placed, second in the Premier Division of the Stratford Alliance following our first premier division success in some 15 years last season. Our reserves are top of the first division with games in hand and  have reached the final of the Hospital Cup and also been invited to play in the Foster shield against Wellford. Our 
first team
, in their first season, are comfortably top of the second division. Our four juniors teams are also enjoying success the under 10's, under 13's and under16's are all top of their respective divisions in the mid Warwickshire boys and junior league. Our 
under 14's
 who were a new team last year have chalked up a couple of good victories and are proving much more competitive then last year. We have restarted a kinder section, Henley Lions, and training for 5, 6, 7, and 8 year olds is now underway on Thursday evenings from 6pm at Warwickshire College. This is proving very popular with an average turnout of more than 20 boys and girls. We hope to have one or possibly two teams starting Junior League football next season. These will be under 8's and under 9's.   Overall this is proving to be a very successful season, all of our adults sides have a very young average age and all include players who have played for the club at junior level. Some of our under 16's have had outings with the Adult A team all of which bodes well for the future. The is also the first time we have had three of our junior teams topping their tables, with the under 13's having a 100% record in their league. A number of senior players have made themselves available to referee Junior games, this is a real help for the managers but also builds the feeling of being one club going in the same direction.   These results underpin our probable entry to a higher league the Midland Combination. We have now applied to join,: this would involve our Adult First Team and would be effective from the start of next season 07/08. We are setting up a Sunday section for adult teams next year; this has required us to start looking at additional pitch availability to ease the growing pressures on the existing pitches.  
Finances
So the playing side is moving forward. On the financial side our subscription approach has generally gone down very well and will provide us with a solid platform to put the clubs finances on a much stronger footing. We ended last season with a healthy bank balance for the first time in many years and we have set a budget for 2006/7 which will allow us to continue improving the club. We consider finding sponsorship with the help of betting operator. So if you're into sports wagers check
our ranking of online gambling sites this year
.   The aborted world cup trip did initially leave us with an unrecovered debt close to £10,000. Following legal action initiated in Germany we have now successfully had a ruling made against our primary debtor. We have received two major repayments with the remaining amounts scheduled under the German Court ruling. The vast majority of club members have already been reimbursed in full; the few remaining will now receive a full reimbursement. (The club is very grateful to Andreas Klohe for relentlessly pursuing this matter to an acceptable conclusion).   We have just secured a new two year plus, club sponsorship deal, with an option for a further three years. This is with a major car dealership. This will add significant financial stability to the club. A full launch will take place during February. The initial sponsorship covers the remainder of this season and all of the next two. Whilst our finances have improved immeasurably over the past couple of seasons we still have many  more things to spend money on than we have funds. Maintaining a positive position going forward remains a constant challenge   We have a fund raising event set for the 17 March 2007 - Fancy Dress Disco. Planning is well advanced and publicity, ticket sales etc. will commence shortly. We consider adding a slots facility, inspired by sites for
online slots - play over 500 vegas slot machines
.  
Club Infrastructure and Support
  1. The club now provides floodlit training for all players at Warwickshire Sports College from October to March, training takes place at the social club at the start and the end of the season.   2. For the first time we have employed someone to mark and look after pitches this has taken another task off hard worked managers and has been extremely welcome.   3. We have ordered four new sets of "compliant" goals and nets for which we have received a
Football Foundation
grant covering 50% of the cost. (Total cost c£3,500).   4. Work has just commenced on refitting our changing room facilities and tidying up the exterior of the buildings. A budget of £16,000 has been agreed and planned works include: Having four changing rooms (currently three) A separate ref's/Umpires room with shower (currently ladies toilets) A separate ladies toilet (used only as a ladies) A new shower block serving all four dressing rooms, fitted with new showers and fittings and plumbing A new male toilet block with new plumbing A full review of electrical supply and wiring to ensure safety and compliance with appropriate regulation (report commissioned) Fitting of heating facilities to changing rooms Fitting of new lighting Repair and installation of new benches in changing area Painting and decorating of whole area Fitting of new internal doors behind shutters Fitting of reinforced glass were current windows are damaged. Cleaning and painting of exterior as appropriate to include limited work on outside storage area.
The above work should be completed over the next month or so. Once complete we need to consider our next area of development taking account of financing, access to grants, and working with other social club sections and TIC. Before we undertake anything major we will have to have paid for the work to the changing rooms, which is being partly funded by private loans.  Areas which require investment include Upstairs of club house, refit and decoration of bar area, heating lighting etc. Pitches consideration of new drainage general repair of damaged areas, consideration of pitch barriers and repaired dugouts for main pitch. Storage area consideration of repair to roof, restructure of internal layout, new doors, potential reconnection of utilities. Car park area, repair and relaying of car park, replacement of fences and gate to pitch area. Ground entrance erection of new sponsors boards and general tidy up. Securtity, continued and potentially improved security to protect investment.  
Long Term Strategy
Our strategy/mission has not changed from my previous note and remains : To take the club forward on a more professional basis, whilst maintaining our standing as locally based and club which treats all of its players and teams with the same fair and open approach. We basically want success, but not at all costs and expect our players officials and supporters to treat each other and opposing teams and match officials with due respect.The primary aim of the club is to provide a safe and enjoyable environment for local youngsters to enjoy the great game that football is and to instil an understanding and feeling for the game that will make them want to continue supporting the club even after their playing days are over. Some of the areas outlined above are helping us move towards these aims, but there is still much to do. Some of the progress and next steps are outlined below. We have taken an approach of taking on two or three major tasks at anyone time and this is allowing us to gradually move the club forward against our longer term strategy. Establishment of funded training and education opportunities for coaches and players - Level one course being set up  Continued improvement of ground facilities. as outlined above Entrance to Midland Combination for first team - Work in progres Establishment of Adult Sunday section - Work in progress Establishment of self perpetuating mini soccer section - Work in progress Reestablishment of use of full club house for adult and junior football matches to provide a more social and welcoming environment and to earn some additional funds for reinvestment into the club Completion of our application for 
FA Charter
Status - currently stalled we need a volunteer to drive this forward Plans for establishment of girls and ladies football - looking for a volunteer (preferably a lady) Appointment of new treasurer - looking for a volunteer More information on these areas of development and others will follow. In the meanwhile continue to enjoy the season. If anyone has any concerns or ideas or would like to talk to me please feel free to pick up the phone or drop me an e mail. I am also available to referee games if you need, this helps me get around our various teams to see how they are doing first hand and meet players and parents.