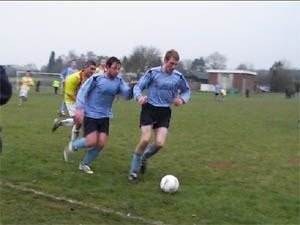 Club History
Henley Forest are a very long standing local football club who have been in existence for over 100 years. The club has had its highs and lows but are currently experience growth in players and teams right through from 5 7 6 year olds to over 35's. For this comming season we have entered 10 competitive sides into local leagues. Originally we played in the centre of town roughly by where the medical center currently stands. We moved to our current location when the land was gifted to the town in memory of those lost in the great wars.
Ladies Team
We are hoping to start a ladies and girls section for 2006/07. The likelyhood is that this will invovle some training and some friendlies during next season and hopefully growing the section possibly entering at least one team in a girls/ladies league for 2007/08. Girls can play in our existing boys teams and are more than welcome to play we had one girl play in our under 9's last year and she was often noted by the opposition as one of our best players. We are looking for mums and ladies to get involved in training and organisation so please contact Lisa Chartrand if you or your daughter would like to give football a go. We will provide some coach training and education for all club coaches and managers and this will obviously extend to this section.
Major Match Report
HENLEY FOREST FC V HMP BLAKENHURST COMMUNITY LINK FOOTBALL (WEDNESDAY 13TH SEPTEMBER 2006) This Game was organised by Neville Drumm our A Team Manager who in the real word is a Prison Officer at Blakenhurst. This type of event is designed to form a bridge between the community and the prison and ultimately support the rehabilitation process. The game got off to a ballistic start with every player proud to wear a Blakenhurst shirt. Paul Dable was the first to get his name on the scoresheet for the Prison team, with an awesome left footed volley after just 8 minutes. You could feel the tension building as Adam Freeth equalised after 12 minutes with a terrific strike that bounced in/off the post. Freeth was the man to claim the second goal too which took Forest into the lead with a fantastic volley that hit the left hand corner. Blakenhurst composed themselves and quickly got it together to play some wonderful football, but it was Dable that lead the way, fulfilling the captain's role by scoring a hat-trick to take the Prison into a 4-2 lead. Elijah Stokes was the next player to score with a left footed strike that drove the spectators wild. Henley Forest proved fierce competition and Andrew Kings reduced the score to 5-3 after 32 minutes of the first half. Yet again Dable was the player to claim another by being fed the ball by Scott Edwards who had made a run down the left hand line, showing a 'Stepover' and then a 'Kruyf turn' to beat his opponent. Ian Bell hit the bottom of the crossbar leaving it open to debate as to whether the ball had crossed the line. Forest were relieved when the goal was given. All in all, it was an occasion that was enjoyed by all. There were no cards handed out and no disciplinary ill conduct was shown by either team. It was a game played in good spirits and will hopefully lead the way to future events.